2021 Engraved Brick Fundraiser!!!
After past fundraisers, we were able to install a beautiful brick pathway at the Mt. Alverno trailhead. Our goal this year is to enhance this pathway and we need your help! Personalize a brick today and support the Chester Creek Rail Trail as we continue working to make it a place where families can enjoy the great outdoors together.
*LAST DAY TO ORDER IS AUGUST 31, 2021*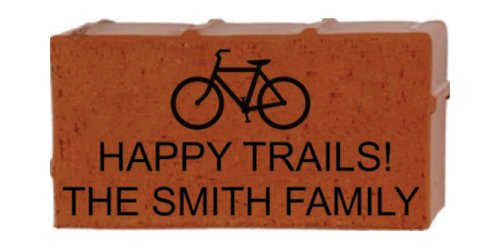 Engraved Brick – $100   (All bricks are 4″ x 8″).
Engraved Brick with Optional Logo (See Order Form) – $125.
Bricks can be engraved up to 3 lines of text – 20 characters per line.
Want a custom logo?  Please call Barry at 610-714-1598 for information and  pricing. 
Or contact us at [email protected].
ALL TEXT IS CENTERED BOTH HORIZONTALLY & VERTICALLY ON THE BRICK
IF YOU ENTER ONLY 1 or 2 LINES OF TEXT IT WILL BE CENTERED ON THE BRICK (See example above)
PLEASE ONLY CLICK THE "SUBMIT" BUTTON ONCE.
AFTER CLICKING "SUBMIT" YOU WILL BE TAKEN TO A SEPARATE SCREEN TO PAY BY CREDIT CARD.