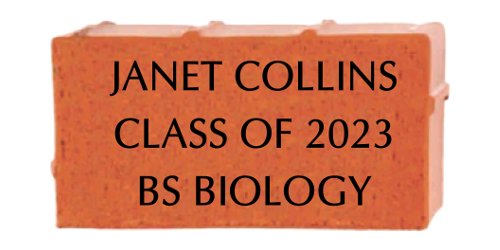 2" x 4" x 0.5"
FELT BACKED
REPLICA
SENT TO YOUR HOME!
$25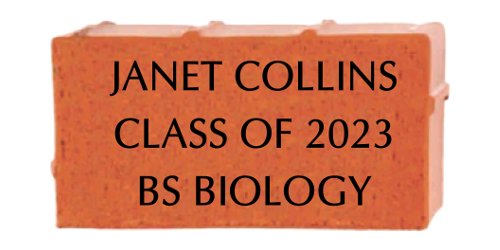 4" x 8" x 2.25"
FULL SIZED BRICK
INSTALLED IN THE COURTYARD OF THE
PATRICIA BUSH TIPPIE ALUMNI CENTER
AT COCHRAN HALL
Through Allegheny's Buy-a-Brick Program, you can be part of an enduring legacy. For just $100 you can choose a message to be engraved on one of the bricks paving the courtyard of the Patricia Bush Tippie Alumni Center at Cochran Hall.
The bricks of the alumni courtyard—reflecting a network of friendships and relationships as well as personal and family milestones—are a testament to the distinctive Allegheny College experience and your support of your alma mater.
Recognize a special person in your life. Honor a classmate or professor. Celebrate a special occasion such as a marriage or a birth. The possibilities are endless.
Please supply the information requested below. Credit card data is transmitted securely to our payment processor and is at no time read or stored by the college.
Bricks ordered in the spring and summer will be installed prior to Blue and Gold Weekend, while bricks ordered in the fall and winter will be installed prior to Reunion Weekend of that same year.
Each 4″ by 8″ brick can contain up to three lines with 17 characters per line. All letters will be capitalized, and each line will be centered on the brick. Each letter, number, punctuation mark, and space counts as one character.
You can also purchase a replica of your brick to give as a gift or keep as a memento.
Use the following text to copy and paste Greek characters into your lines: A B Γ Δ E Z H Θ I K Λ M N Ξ O Π P Σ T Y Φ X Ψ Ω