To celebrate the 250 th
Anniversary of Hathorn's
House, the Friends are creating
a Patriot Walk of Honor on the
grounds of the Old Stone
House Inn. The bricks will
honor the brave patriots from
Warwick who served during
the Revolutionary War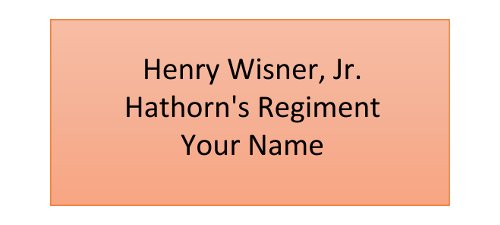 Proceeds support programs honoring
Warwick's Founding Veterans
Your brick will have your
personally chosen Veteran's
Name, Unit, and Your
Name
Choose your patriot here
$25 for a Replica Brick sent to your home!
Please engrave our personalized brick as follows:
Bricks will be personalized with up to 3 lines of text, 20 characters each including spaces and punctuation.
PLEASE ONLY CLICK THE "SUBMIT" BUTTON ONCE.
AFTER CLICKING "SUBMIT" YOU WILL BE TAKEN TO A SEPARATE SCREEN TO PAY BY CREDIT CARD.
"The Friends of Hathorn House is a nonprofit historical society."