Personalize a
6"x9"x2" brick
to be permanently
installed
at Open Hearth's
New Patio!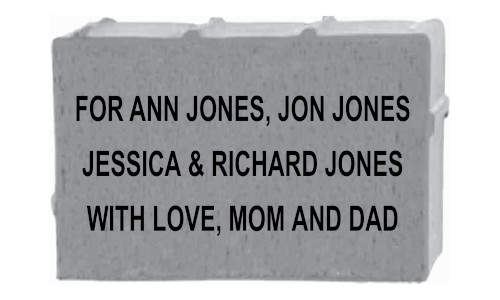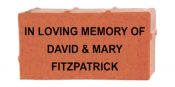 Order a felt backed
Mini-Replica brick
to remember your gift
to Open Hearth at home!
Please engrave our personalized brick as follows:
6" x 9" x 2″ bricks can be personalized with up to 3 lines of text, 22 characters per line.
ANY SYMBOL IS CONSIDERED ONE SPACE (PERIOD, COMMA, DASH). ALL TEXT IS CENTERED.
ALL TEXT IS CENTERED BOTH HORIZONTALLY & VERTICALLY ON THE BRICK
IF YOU ENTER ONLY 1 or 2 LINES OF TEXT IT WILL BE CENTERED ON THE BRICK